In my first ten years with with the Manhattan Beach Unified School District, I did not make a commencement speech during our high school graduation. I was honored and grateful when Mira Costa principal asked me to make a speech at the end of my 11th and last year with MBUSD. I took the opportunity to make in an advice speech, and I had a lot to say! I took lessons learned in life and in work, wrote a draft. I then cut half of it out, then cut a little more, and ended up with something that I think is still too long. Given more time, I could have cut it down even more. I had many words of thanks for my words, and I thought I would share it here:
——————–
I have been connected to this class as your superintendent since you entered 2nd grade, back in 2010. We have been through this journey together, and I thank the class of 2021 for all you did to get to this point. It has been an adventure and we all have stories to tell. Here is my advice to all of us, much of which I have learned in the last eleven years with you.
Have stories and tell them often. Try not to repeat yourself too much.
Strive to be happy. Life is better when we are happy. It's our choice, and we can't give that power to anyone else. People will try to take away your happiness, and enjoy doing it. Don't let them. With the exception of country and western songwriters (Sorry Dr. Dale), most of us love happy stories.
Be grateful. A Benedictine monk said something that guides me – "It is not happiness that makes us grateful. It is gratefulness that makes us happy." There's an old saying about keeping up with the Jones's. Let the Jones's win. Their story isn't as perfect as you think it is.
Focus on the present. I know I'm over simplifying it, but I do believe thinking too much about what's next makes us more anxious, and dwelling on the tough moments in the past can be depressing. This moment that we are in right now is particularly beautiful. There is a lot of love and pride in this stadium right now. Let's do our best to feel it and enjoy it. Today is a keeper story for the rest of our lives.
Make time for friends. Keeping a few good friends for years and years, and doing the work it takes to maintain those friendships, will matter. Friends will listen to your stories. And if they are really good friends, they won't let you get away with anything without giving you a hard time for it.
And when it comes to work, strive to be a part of amazing teams. Successful teams argue when they disagree, and support each other in difficult times. The Lego Movie was right. Everything IS cool when you're part of a team.
Share stories and laugh with others as often as you can.
Have passions. Be interesting, especially to yourself. Don't be one dimensional. Find a BUNCH of things you love to do: Dancing, Cooking, Surfing, Music, Nature Loving, Reading, Creating Art – Find and pursue your passions.
Treat people with kindness. Everyone goes through something brutal at some time, and your kindness may be the thing that helps them out. Spread your kindness through charity. Be on the side of good in the world.
Learn how to deal with mean people. It's an angrier world today than it was when I left high school. I have been called many names this year and throughout my career. As best as you can, let it slide off you like water off a duck's back. I have little patience for mean people and I move on from their negative energy as soon as I can.
Dream Big. If someone is not occasionally telling you that you're crazy, you're not dreaming big enough. And if you don't occasionally fail, you need to dream bigger.
Don't be afraid to leave what is comfortable. In fact, embrace it. I'm leaving a job I love, and I don't know what's next. I cannot wait for the next story.
Be a lifelong learner. Sharpen the saw. Read. Watch Movies. Listen and learn from the stories of others.
Don't watch useless TV and be careful with social media. It's full of stories that don't matter.
Have adventures. Try not to overschedule your vacations or your free time. Do something and just see what happens. Those adventures, even when they are failures, may lead to your best stories.
And there's not much better than one more good story in our lives.
Thank you for all the stories we have created over the last eleven years, and best of luck to the class of 2021 and the entire MBUSD community!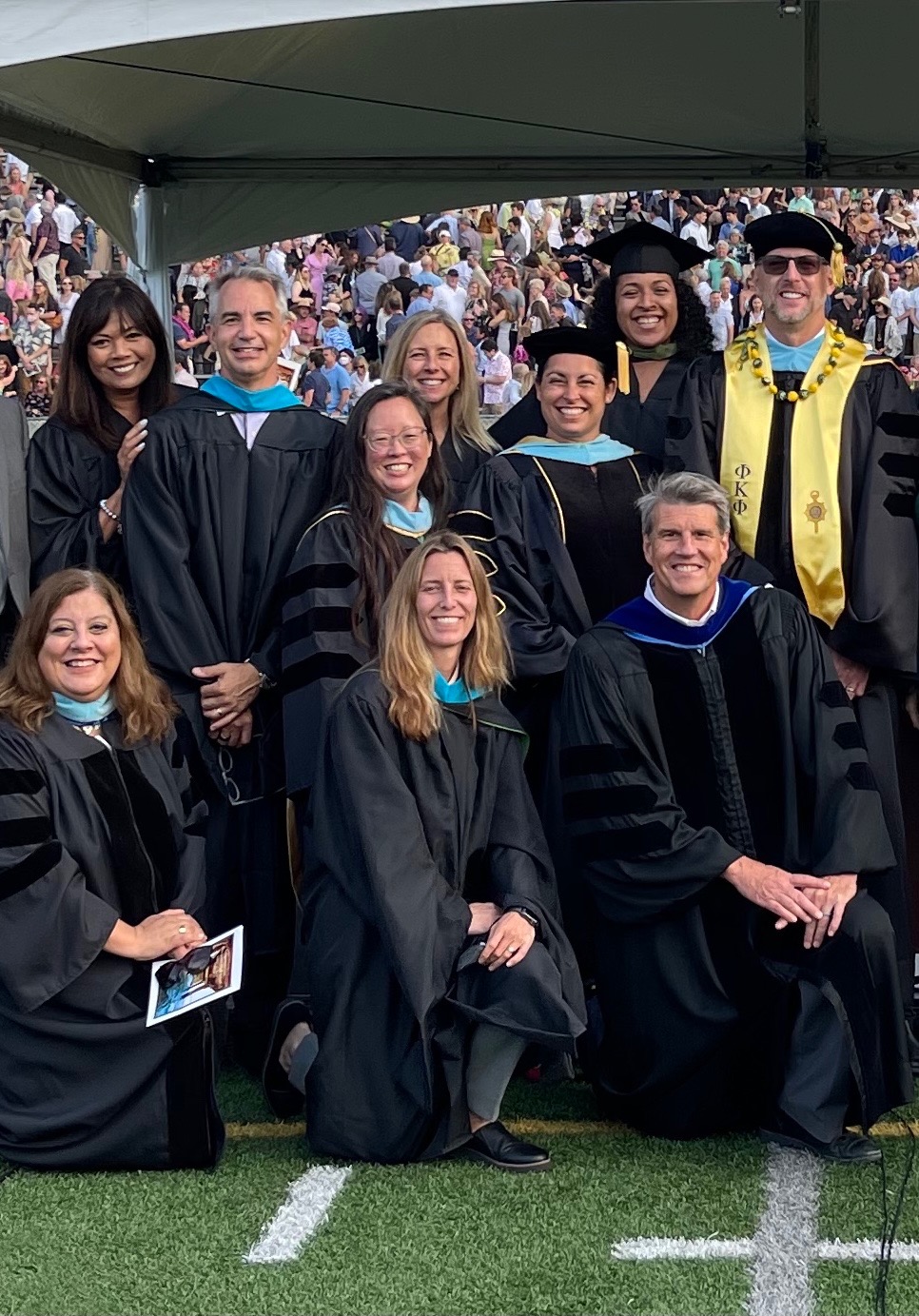 After graduation, here is a picture of this awesome leadership team that I have been so proud to work with.