As I have made these COVID-19 posts on Facebook, and I as tentatively enter the world of "social distance media," I have heard from so many people from different chapters of my life. I have been fortunate in my 58 years of existence to have been a member of many amazing and magical teams. Sometimes the situation and the people just gel to create magical moments during a lifetime. I've had so many. My family, which has grown and changed over the years, has always been an amazing team. As my very funny and lovely mother-in-law says, my family "puts the fun in dysfunctional." My 6th grade basketball team. My graduating class of 1980 at Catholic High School in Little Rock, Arkansas, which still has amazing bonds. My freshman dorm-mates at Stanford. My small eclectic group of friends from my year in West Berlin in 1982-83. My first teaching job in San Lorenzo. My vice principal experience at Lodi High School. My principal experience at Malibu High School. My close-knit neighbors who are an incredible part of my life. My wacky 5:30 AM masters swimming group at LMU. And my colleagues in my current job as Superintendent in Manhattan Beach. That's a lot! All of those were amazing teams who added magical, supportive, fun-filled, and meaningful elements to my life.
I'm not sure how great teams get created. I've read a lot about it. If you read the annotated bibliography I've been keeping for the last 10 years, you'll see a lot of books about creating and sustaining great teams. For me, part of it comes with not being afraid to start over. I've left many jobs that I absolutely loved to start a new job with different challenges. Part of creating a team comes from having a meaningful job to do, and surrounding myself with colleagues who are just as committed as I am to getting that job done right. Part of it comes from my love of laughter, and enjoying being around those who foster it. Finally, I think teams are created when people create spaces in the day, week, or year for downtime and an opportunity to breathe. Keith Urban, one of the hardest working entertainers in the world, sings a song called "Wasted Time," where he has the line, "Ain't it funny how the best days of my life was all that wasted time." When I would spend a morning biking with my friend Will Carey, he would usually say he had, "Nothing to do, and all day to do it." All you need is purpose, laughter, and time, and . . . the right people.
I could write a blog post about each of the teams I mentioned above. None of them would do justice to the special nature of each, but it is nice to reflect. I'll write today on my first teaching job, my five years of teaching History at San Lorenzo High School, where I was a part of two beautiful teams: my amazing, creative, and laughter-filled group of colleagues, and my spectacular and inspirational students.
San Lorenzo is a small suburb in Northern California, located at the intersection of the 880 and 238 freeways, just south of Oakland. (If you're wondering why we Californians use freeway numbers and roads to describe where something is, watch the not-so-flattering series, The Californians, from Saturday Night Live). I was hired to work there two days before the school year started, as getting a job as a history teacher was not easy back in 1985. I taught four different courses in four different classrooms all over the campus. I asked for a lot of help with those four courses, and I met a lot of people as I pushed my cart around the campus between classes. And I started learning how to teach.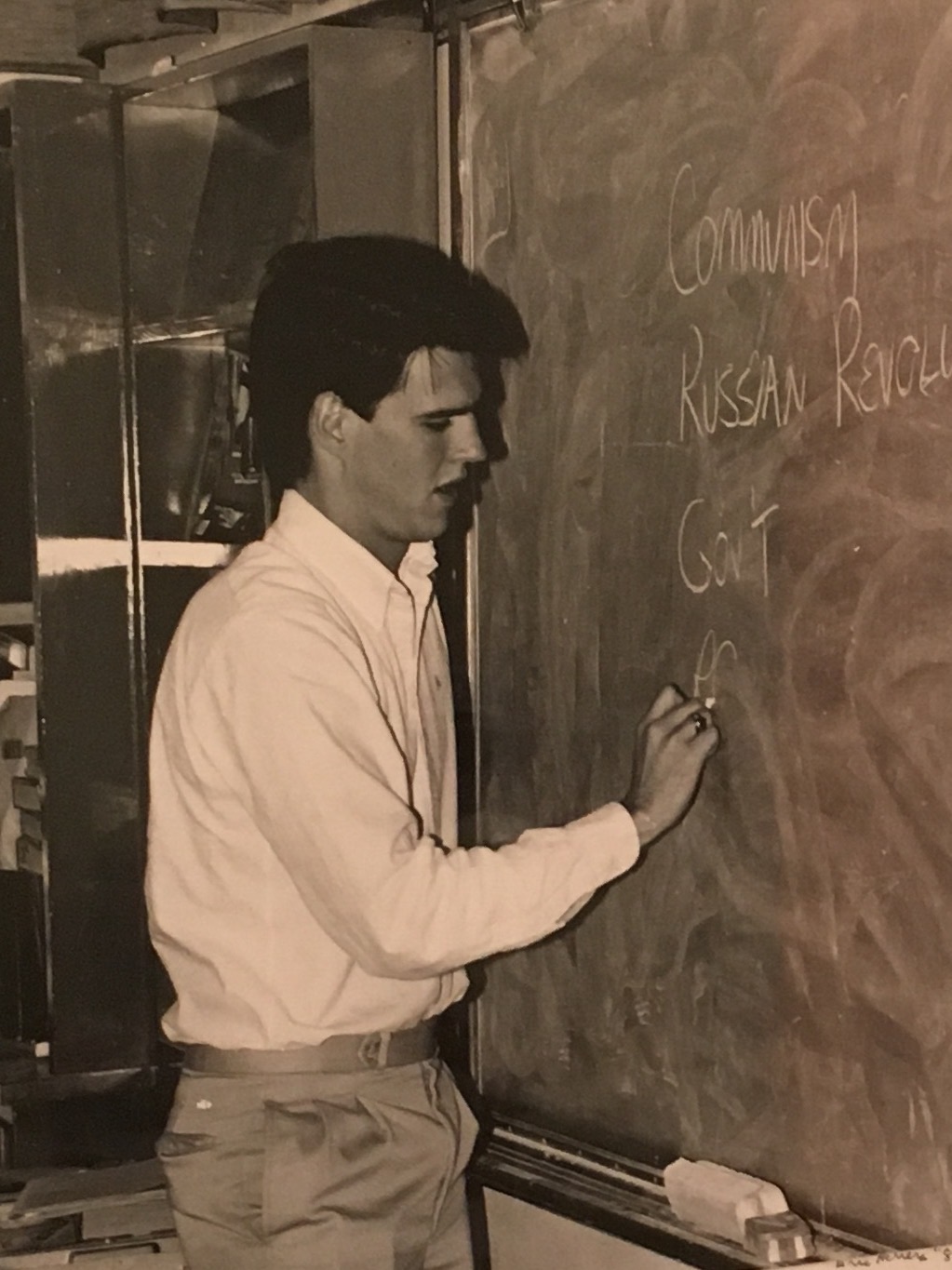 Let's be clear. Teaching is hard. It's awesome, but it is really, really difficult to be a good teacher. My first three years of teaching were some of the most challenging and most rewarding of my life. I had lesson plans that totally bombed, late nights trying to figure out what and how to teach the next day, stacks of grading that never seemed to get done, new classroom management challenges every day in class, and a wide variety of failures and successes. But it got better. And the main reason it improved was because of the afternoons I would spend with my fellow teachers and colleagues, lamenting our failures and telling stories that made us laugh. A few of us even started a band, The Underpaid, that performed at some union events and served as the pit band for that year's San Lorenzo High School musical, Grease. We worked together, struggled to find ways to help our students, worked out together, played together, laughed together, and together accomplished great things for the students of San Lorenzo. This was an amazing team. The beauty, love, and laughter of this team has stayed with me to do this day, and I am still grateful for each person who contributed to that magical era in my life.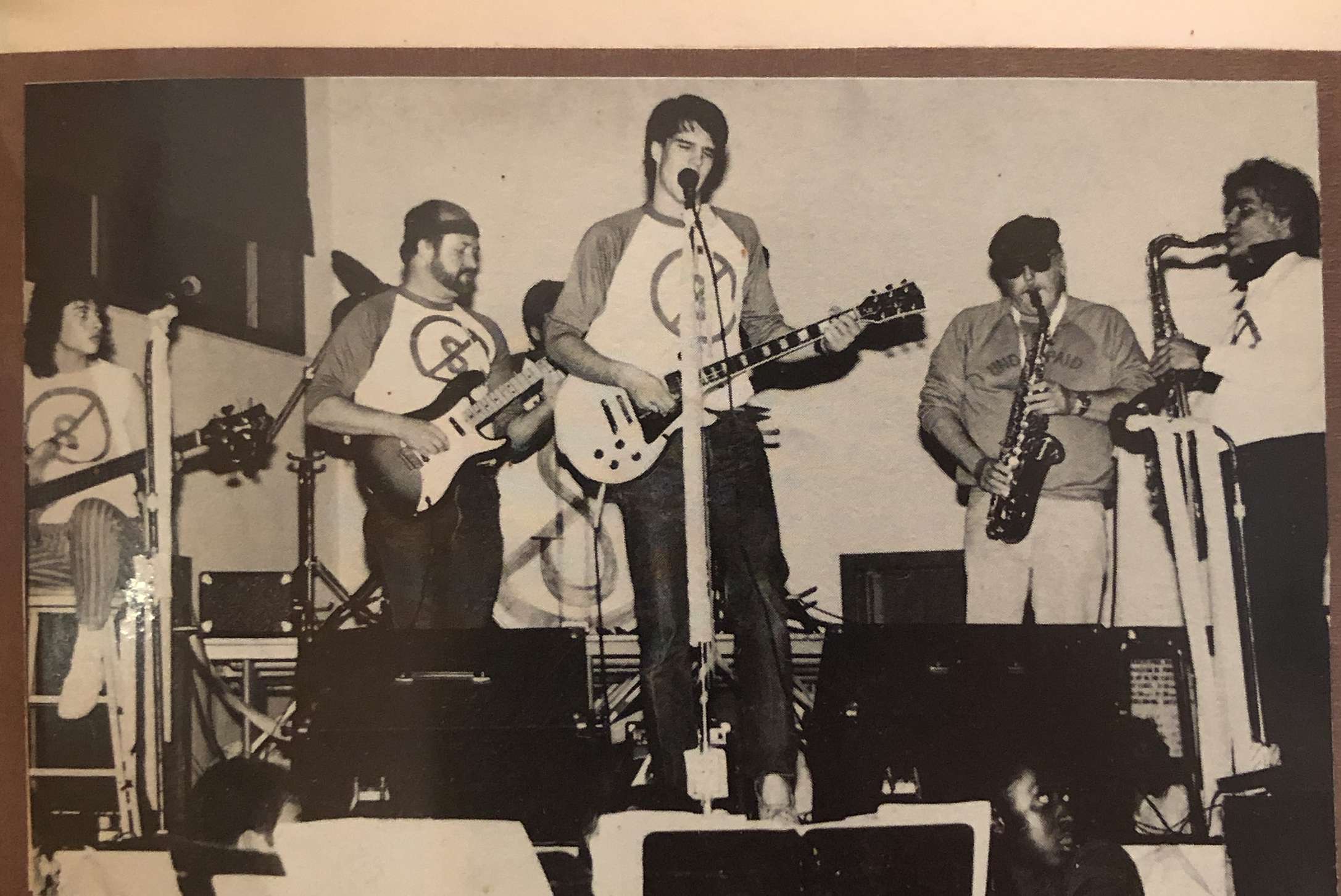 But it wasn't just the teachers. I loved my students as well. They were patient with me (most of the time) as I learned how to teach. They put up with my crazy ideas for teaching, like when I taught the American Revolution from the perspective of the Vietnam War and the Apartheid Movement. They were talented and smart, and I enjoyed seeing all that they brought to the table. SLZHS did not send many students directly to four-year colleges. The main recruiters on campus were the local community college and the US military. Those can be great options for students, but one of my primary goals for my students was and continues to be maximizing their options for their futures. In an effort to get more students to feel ready for four-year college, I started the first-ever Advanced Placement course in our district, and I began teaching AP US History in 1988. Those next two years of teaching created one of my favorite teams in my life, as I moved up with the students the next year, teaching AP Government and Economics.
For me, AP US History has always been a course that uses US History to teach students how to think and write. And, boy, did those students write. Every Monday, they had to turn in five to six essays, each one of which took at least 30 minutes of writing, and much more time reading, researching, and thinking. By the time I finished teaching my last AP US History course in 2004, I had reduced that load by 50%, and it was still a lot. The students loved and hated the challenge. I gave out my home phone number for students to call me. Half the calls were just about dealing with stress. But as we learned together, we all fell in love with our hard-working group. The students supported each other. Our class days had a lot of lecturing (too much, now that I look back on it), but tons of time for laughter, support, and conversation. We had evening review sessions, and Saturday morning review sessions. We became a team.
This experience shaped what I believe teaching should be about. Teaching at its best is like coaching. When a player fails to do what a coach expects of him or her, a good coach does not simply cut the player from the team or put him or her on the bench for the rest of the season. The quality coach insists that it be done again, and offers different pieces of advice, refusing to rest until the job is done right. Because the team will not succeed unless each player can do their job successfully. Good teaching should be done the same way. My goal as a teacher was to coach students and help them continue improving until they reached their potential. And my goal was always to believe in my students and to have extraordinarily high expectations for them.
This team of students exceeded all of my expectations. Most passed the AP exam, and all of them were ready for college. They went to all kinds of colleges, from Cal State Hayward (now CSU East Bay) to UC Berkeley to Stanford, and so many of them are successful. They are teachers, IT professionals, high school principals, immigration attorneys, researchers, business owners, and successful parents, and so many of them are still very good friends with each other. One of the students even said nice things about me when I took the job here in MBUSD! They remain one of the most successful teams I have ever been a part of, and I love them all for what they added to my life.
So thank you to all of my friends, colleagues, and students from San Lorenzo High School. And thank you to all of my teammates from throughout my life. I hope that we all can keep building new teams as we go through life. During this incredible COVID-19 time, I already see, similar to what happened after 9/11, communities and neighborhoods bonding and teaming a little more closely. Maybe this can be one of the first ever crises that actually teams the entire planet a little more closely. Through pain and suffering, a greater good often emerges. Let's all do what we can to build our own teams, be open to joining future and unknown teams, and see what joy and purpose it can bring us.