I hope you all had a nice Independence Day weekend. If I were making the rules, Independence Day would always be the first Monday in July. Actually, I would change the entire calendar. The way our current 7-days-a-week, 365.25-days-a-year calendar is set up, holidays with dates just don't make sense for working people. Memorial Day and Labor Day got it right, being the last and first Mondays in May and September. But the other holidays need to get with the program. I actually have a new calendar suggestion, but I don't think America is ready to hear it. Another post for another day.
In any case, Independence, Memorial, and Labor Days are the three holidays where we are all pretty much obligated to cook outdoors or attend an event where the food is grilled, barbecued, or smoked. It's not a law, but it's one of those unwritten cultural requirements that is pretty universally accepted. I'm all in by the way. I don't need much of an excuse to cook outdoors, and I fully accept my responsibility as an American to do so on these three holidays . . . and on at least 97 other days each and every year. In California, cooking outdoors 100 days a year is an achievable and noble goal. Again, I'm all in.
Those of you who love cooking outdoors understand. Ian Knauer from The Wall Street Journal writes that he can't write about smoking food "without sounding like a romance novelist." Damn, that's good. When I see a real writer create true art with their words, I get a little jealous. But I do love it.
I do enjoy preparing food on my gas grill and my Big Green Egg. For those of you not familiar with the BGE, it looks like, well, a Big Green Egg. It uses Japanese Ceramic Komodo technology, and it truly is a world class smoker. I could write an entire ode to my Big Green Egg, but that's not what this blog post is about.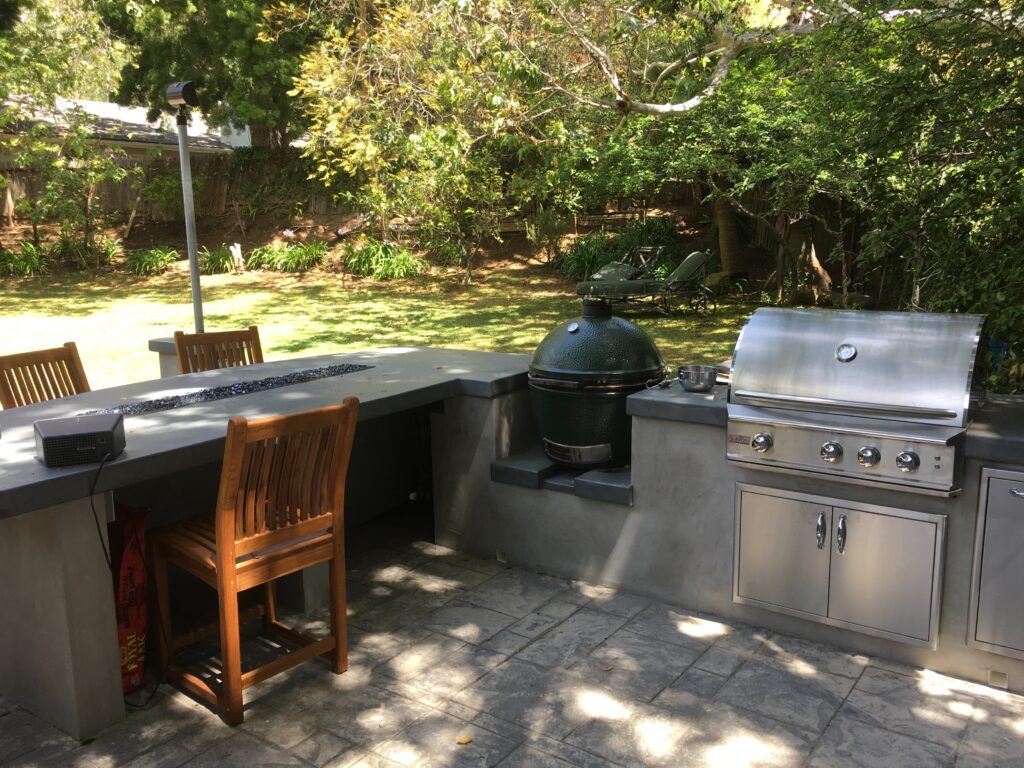 My brother-in-law Will recently got a Big Green Egg for his birthday. His wife Libbie, who is already a rock star in my eyes, gave it to him, and she obviously just went up even higher in the best possible partner competition. Will and I have been talking regularly about his new addiction, and I look forward to our next chat. I already have the same conversations with my son Ryan, another Big Green Egger.
My friend Mark just got a Traeger Smoker Grill. When Mark and I play 18 holes together, we will manage to talk about smoking meat on every hole of our 4+ hour walk. No matter what golf score I get that day, that conversation always makes the day a huge success.
My friend Chris is the best meat smoker I know. He has an old-fashioned offset smoker that requires a great deal of attention throughout the process. I like my Big Green Egg far more than what he has, but honestly, his food comes out absolutely perfect each and every time. He's an artist who has perfected the art. Nice equipment can make cooking easier, but the true key is having a chef who is a bit fanatical about the process and even more crazy about the result.
While I know plenty of Eggheads (Big Green Egg fanatics) who look down on all other smokers and grills, that's not me. I remain open minded and enthusiastic about all of the different equipment people use in their outdoor cooking endeavors. I am a better cook because I embrace all differences, and when I see something new, I can't wait to learn how it might make me better. Anthony Bourdain said it best: "Barbecue may not be the road to world peace, but it's a start."
As a host of many backyard barbecue events, and a fortunate attendee of many others, I have developed my own personal rules for attending barbecues. I use the word rules on purpose. They are more than just guidelines. If you break one of them, you are in danger of being that guy. And a good operating goal in life is, never be that guy. I consulted my friends Chris, Mark, and Ben, as well as my son Ryan, on this list, and they all made it better. Here's what I've got:
Bring something to the BBQ. Drinks are always appreciated. Appetizers are good. If you're in a pinch, a roll of foil is always appreciated by a true barbecue person.
Don't offer advice unless asked. If you see something that you think is being done totally wrong, either ignore it, go away, or tell the chef how great he or she is doing. And, who knows, you might just learn something. Think to yourself, would I tell The Godfather how to do his job? No. No, you wouldn't.
Never ever, ever, ever touch the smoker, the grill, or the tools unless asked to do so. Know that if you bring your own meat to the BBQ (not a great idea), it will be cooked by that event's superintendent of the grill. Don't offer to flip anything. And if you are even thinking about lifting the lid to take a peek, remember what my friend Chris learned in Memphis, "If you're lookin', you ain't cookin'."
Offer to be a taster for the esteemed bbqer. Being there to taste a small cut is definitely a case of being in the right place at the right time, and it's both a compliment and a recognition of the griller's artistry.
Offer to help as a gopher. Be eager to clean up, carry items to and from the kitchen, or serve tables. Don't hover, but be ready.
And if you're hanging out by the grill, don't crowd the godfather or godmother of the grill. Would you crowd a surgeon? There's important work going on here folks! Give the chef some room!
Those are my rules. Any other suggestions out there?
Labor Day is coming all too soon, so my advice is to try to grab as many outdoor cooking days and nights as you can until then. We have 57 days of possibility. Try to make them count!
Mike
To get updates on when my next post comes out, please click here.