Who says you can't go home? Jon Bon Jovi sang it, but only as a way to prove that you can. What a fascinating career Bon Jovi had – A Rock and Roll Hall of Famer, actor (he had a great role on The West Wing), and the first rock artist to ever top the Country Music charts with a #1 hit. And to top it off, that hit was about going home to, wait for it … New Jersey! Darius Rucker did it, too. Hitting the top of the Billboard charts with Hootie and the Blowfish, then crushing it as a solo country singer. His cover of "Wagon Wheel" is so popular that many bars have banned playing it on the jukebox. It reminds me of the scene from Wayne's World where Wayne tries out a guitar at a music shop, starts playing "Stairway to Heaven," and is quickly stopped by an employee who points to a sign that says, "NO STAIRWAY!" Denied! You can always go home, but you can also play songs too many times.
I have followed Jon Bon Jovi's advice. and I have been in Arkansas for around a week. While I thoroughly enjoyed many parts of the trip, I needed to be here. I did not need to be here for anyone else; I needed it for me.
I grew up listening to country music. Actually, as the bartender says in The Blues Brothers, I grew up listening to both kinds of music, country and western. We played the Wanted! The Outlaws album a million times in my house, and Willie, Waylon, Jessi, and Tompall continue to be mainstays in my life. When I do something that makes Jill roll her eyes or otherwise question why she sticks with me, I just sing "Put Another Log on the Fire," and she knows all is well. Over the course of forty plus years in California, my music tastes have expanded wildly – reggae, rock and roll, jazz, and pop punk. But at my roots, there is always Arkansas and country music.
I drafted this blog post early in the morning under the carport in front of my sister Martha's house in Little Rock, Arkansas. The weather was warm, sultry, but still quite nice in the early morning. By mid-morning, the heat becomes oppressive, requiring my retreat into the air conditioning. But it's just part of being back where I grew up, where both of my parents, one of my two brothers, and one of my two sisters still live. I'm home.
People hang out in their carports and front yards here. That's where you'll see chairs facing the street, ready for parents to sit in and watch their children, for a neighbor to come and visit, or for an odd relative from out of town to sit.  And it is in this familiar and comforting spot, faithfully accompanied by my sister's two aging and loving dogs, that I put my thoughts together for a blog post and say hello to everyone passing by.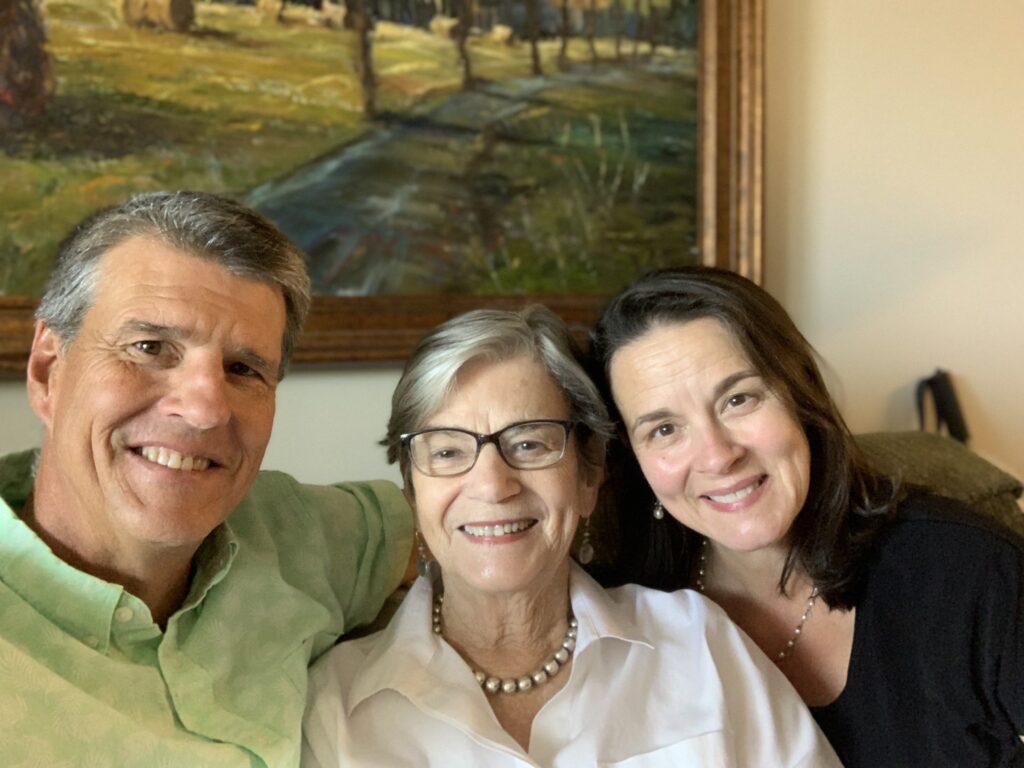 That's a thing in the South. You say hello when you come across people. You look them in the eye, smile, and say hello. When my sister's neighbors walk by with their dogs or are just strolling by, you say hi and if there's time, you talk about what's happening. It feels right. You get to know the security guards and the checkers at the local grocery store, the receptionists in offices, and others in town.
You can't be in a giant hurry if you have to say hello to everyone. Taking the time to stop and talk with neighbors builds strong relationships, and those bonds create a community that turns your house into a home. And having a home in a wonderful neighborhood, which is exactly what my sister has in Arkansas, and what I have in California, is one way to transition from feeling like a stone tumbling down a river to feeling grounded and connected – it creates a fencepost that helps to define who you are and give you meaning. And the more fenceposts you have in your life, like music, family, and your neighborhood, the more connected and grounded you are.
As I've written before, family dinner has always been one of my fenceposts. There is nothing better than simply stopping what you are doing, enjoying a meal, and having a good conversation as a daily fencepost. My swim workouts are another fencepost. They help me to start the day right. Our Monday evenings with Jill's parents are definitely a fencepost.
I use the concept of fenceposts in teaching, too. If you look at a fence, the most important parts are the posts. Great care is taken to make sure they are sturdy, straight, and firmly connected to the ground. Then the material in between, wood, metal, or barbed wire (maybe one of the most underrated and culture-changing inventions of all time – it's inexpensive effectiveness completely changed the wide-open nature of the American west), can be slapped up between those posts. If those break, they're easy to replace, as long as you build and maintain strong fenceposts.
When I teach, I identify the fenceposts that the course will emphasize. There are only four or five in a semester. I'm going to teach the heck out of those elements of the curriculum, so that students have the greatest chance of walking out of that course with an in-depth knowledge of a few key concepts. The rest of the stuff? I'll teach most of it, and maybe it will spark an interest that a student can pursue later on. Maybe not. But teaching and hurrying through a new topic every day is just asking for that stuff to be quickly forgotten. In teaching, and in life, less rushing and more connecting leads to a richer, fuller experience.
This trip to Arkansas has been about my family fenceposts. My last trip in October focused on visiting old friends. This time, I've loved spending time with my mom, my dad (that's him with me at the top of this post), my stepmom, my siblings, and my cousins. I feel caught up and much more connected. I better understand the health and life challenges that everyone is facing.  And being able to sit face to face in order to talk, share, and laugh is something that blows Zoom out of the water.
Even though the heat index has risen over 100 degrees most of the days of my visit, it's been good to be here. I truly appreciate and marvel at each member of my family. They have inspired me with their positive attitudes, their fortitude in fighting life's challenges, and their humor in the face of it all. This week was about checking in on one of the most critical fenceposts in my life. I've checked the sturdiness and positioning of my family fencepost, and I leave knowing that it will continue to give me strength, meaning, and connection for years to come.
Thanks for reading,
Mike
To get updates on when my next post comes out, please click here.