We have lived in our neighborhood for almost 30 years now. There are so many great parts of living here – the weather is spectacular, the beach is a ten-minute walk from our home (we can't see it, but we can hear the waves in the morning), and we are right up against the beautiful Santa Monica mountains. But the best thing about where we live is the friendships that we have cultivated over the years. We travel with our neighbors, celebrate weddings, birthdays, and holidays with them, exercise with them, and just hang out. It is special. And in all of those gatherings, there are so many spectacular cooks in our group that we always eat very well.
We invited some friends for dinner last weekend, just because. I made eggplant parmesan, and Jill made a salad.
There's a history in my family with eggplant parmesan. When Ryan was in third grade, he was famished and ready for a great dinner when I served him this delicious dish. He looked at me like I kicked him in the gut when I put it on the table and asked him to try it. One microbite confirmed that he hated it. Fine. I think he ended up eating Kraft Macaroni and Cheese that night and loving each bite.
Later that spring, I went to Ryan's Open House at his elementary school and visited his classroom. I chatted with his amazing teacher and browsed through some of the student work on his desk. Then I heard some laughter from a group of parents standing by one of the wall displays. I looked over, and they were pointing at me. Malibu is a small town, and I knew almost all of those who were pointing and laughing, so I walked over to the group. The teacher had posted essays students had written about their best day ever. But Ryan, being Ryan, hadn't wanted to write to that prompt, so his was titled, "My Worst Day Ever." And what was it about? His dad, who was usually a pretty decent cook, had inexplicably chosen to make eggplant parmesan for dinner. Why not regular old spaghetti? Why not Kraft Mac and Cheese? What kind of father would do that to his son? Ryan has always been a pretty persuasive writer, even at that age, and it seemed the other parents were all in full agreement that I had indeed made a horrible parenting decision by serving eggplant parmesan. Many of them were portrayed as conduits of joy in their children's best day ever essays, so these parents especially enjoyed laughing at my expense. Thanks, Ryan.
Disirregardless of that, I continue to make eggplant parmesan (I have the Ina Garten based recipe in my principalchef.com website) and I still love it. (OK – I know "disirregardless" is not a word, but it's a word we use in our family as a way of criticizing those who choose the word irregardless, instead of the proper regardless. If you read my blogs, you know that I'm a bit of a grammar snob. Sorry – not sorry. Of course, the English language adapts to misuse, and now if you look in the dictionary under irregardless, you will find that it means the same thing as regardless. As Miriam-Webster states, "Remember that a definition is not an endorsement of a word's use." Whatever, Miriam-Webster. If you won't criticize the misuse, we will, disirregardless of your unwillingness to take a stand!
Anyway, our guests loved the dinner last weekend (take that, Ryan), and then I brought out my TV-inspired dessert.
By modern standards, I'm not very good at watching TV. And I am definitely not very good at the very popular habit of binge watching. I can't even sit through live sports on TV any more. I record them, then fast forward to get through it faster. I have tried binge watching. My friend Ben insisted that I watch The West Wing, a show I always meant to watch when it was on, but never found the time. I ended up binge watching the seven seasons of The West Wing in . . . seven years. Ben is still disappointed in my lack of TV-watching talent.
But these days I'm actually watching a show that pushed me to binge watch the first season in about 2 months (10 episodes in 8 weeks!), and then we re-binged it at an even faster rate just before Season 2 started. That show is Ted Lasso – and it's now a part of our Friday night routine. It's a joyful and positive show that makes us smile and laugh. Jason Sudeikis has created the show, and it's big. It's about an American football coach hired to coach a British Premier League football team. I'll write a future blog on all of the leadership lessons I have learned in watching Ted Lasso, and there's nothing below that will spoil it for those of you who have not watched it.
One of the fun things Ted does is to start every morning with a "Biscuits with the Boss" appointment, where he barges into the team owner's office proclaiming, with a mustachioed smile, "It's Biscuits with the Boss time!" He ignores the scowls of Rebecca, the club owner, along with her protests that she doesn't have time for these shenanigans, because he knows she loves these biscuits. "Biscuits" in this case is British for shortbread. So, first of all, I love that Ted Lasso insists on making time for small talk and camaraderie in his working day. Truly knowing who you work with, finding time to break bread or biscuits with them, and pausing to talk and laugh about work or non-work topics makes any job a hell of a lot more enjoyable. It's something I have tried to do in every aspect of my life, and I thank Ted for reminding me about that. Second, I love shortbread, so naturally I sought out the Ted Lasso recipe.
Well, it doesn't exist. Or does it? Thanks to some super sleuthing by some very observant people with time on their hands (I love the Internet – most of the time), I found a rumored recipe. I tried it, and then, using lessons learned from the first time I made them, I decided to serve Ted Lasso biscuits for dessert that night. Like the eggplant parmesan, they were a hit, easy to make and super fun. So, I put that recipe on principalchef.com too if you are interested.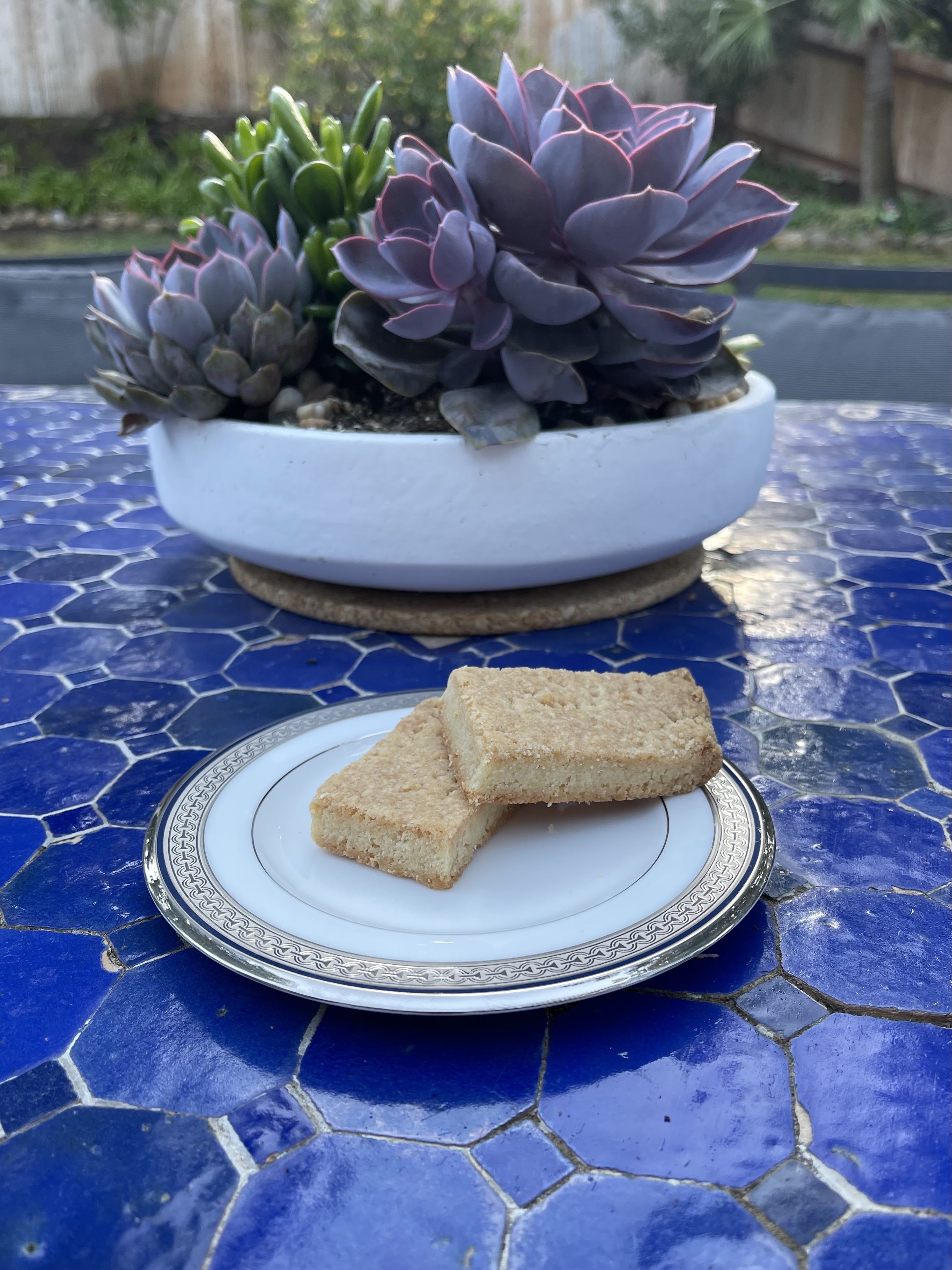 And thus, yet another spectacular day with our wonderful neighbors and friends came to an end. To quote Frank the Tank from Old School, "Pretty nice little Saturday really."
———-
PS – For those of you who don't want to fork up $5/month for Apple TV, I get it, but purchasing it now, you could get through the 22 episodes of Season 1 and Season 2 in one month (or maybe less!), assuming you're normal and a far better binge watcher than I.
To receive email updates on future blog posts, please click here.