We lost our lime tree this month. It was a beautiful and bountiful tree in our front yard that was part of our lives for about 10 years. As a boy from Arkansas, having citrus trees in our yard is still a wonder that I NEVER take for granted. We have lemon trees, a tangerine tree, an orange tree, and until this month, an awesome lime tree. Just the ability to walk into my yard and pull a perfect lemon off the tree for my blackened salmon recipe makes me smile every time. Losing our lime tree (Jill called it "Limey") has me reflecting on all of the joys our citrus trees have given us over the years.
Joy #1
First – there's the obvious. Citrus makes food and drink way better. Having limes meant that a Moscow Mule was always a possibility. Limes make everything better – a glass of water, a Mexican-style beer, or anything with vodka.
We still have our lemon tree, and I use those lemons in so many different recipes. Here are some of my favorites:
You can even use it to make buttermilk for a recipe when regular milk is all you have – a squeezed lemon or lime in a cup of milk curdles and thickens the liquid so that it can substitute for buttermilk. And all of that goodness is right in our yard. I love it.
Joy #2
I have written many times that one of the greatest things about living where I live is that I have so many neighbors who are truly wonderful friends. Some of them would even admit that I am their friend, as long as they don't have to say it in public. Two of my dearest friends, Pat and John, live right next door. Pat and John are spectacular people, fellow educators, and they were among the hundreds of people in Malibu who lost their homes in the Woolsey Fire of 2018. Pat and John have a fantastic lemon tree in their side yard. Its branches hang over into our yard, and over the years, with their permission, I have taken hundreds of lemons from their tree. The rinds on them on less thick than the lemons from our tree, which is one more piece of evidence that, like everything Pat and John do, they do with a little more class than I do.
When Pat and John's house was burning, the fire department had not yet made it to our neighborhood. Volunteers were fighting their way to the houses that were burning on my street. I believe those volunteers were aided by the lemon tree between our houses. We heard that as the fire spread to the side of Pat and John's house that is less than 15 feet from our home, that beautiful lemon tree got in the way of the flames, delaying the fire from spreading to our home. Because of that delay, volunteers, led by a former student and good friend to whom I am eternally grateful, made it to our home and minimized the damage. I look forward to Pat and John's home being rebuilt, so we can enjoy those lemons together. I think they will agree that they taste even better now.
Joy #3
I always found a way to be home when Dawson had his first day of school, and I loved taking him to campus. I would take a picture of Jill and Dawson, as it was the first day for both of them. After we planted Limey, it was the perfect backdrop for this annual photo. Over time, the tree grew, Jill stayed beautiful, and Dawson got taller and taller. But he never got taller than Limey. Meanwhile, I get shorter and shorter, but that's a different (and probably not very interesting at all) blog post. By the way, Dawson was NOT a fan of me still taking him to school when he was in high school. He would say, "Dad, no parents do this." I would agree, and walk with him onto campus anyhow. I still knew so many employees there from my time as principal, so as awkward as it was for him, it was awesome for me!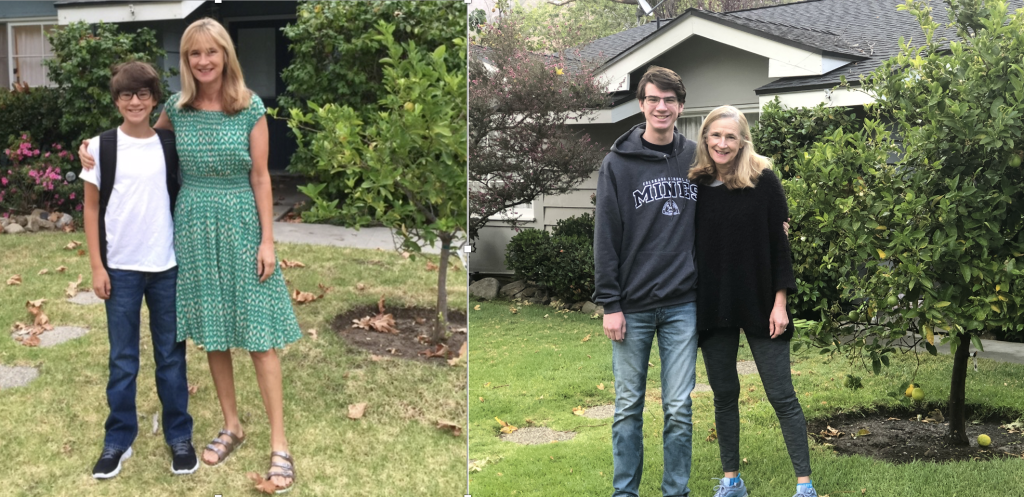 Our citrus trees truly enrich our lives. I am reminded of The Giving Tree, by Shel Silverstein. For me, it's a children's book that's all about the goodness in giving, true parental love, and the power of nature in our lives. When I read it to my children, they would always ask me what was wrong, because it was hard to get out the words at the end of the book. Of course I wasn't crying! I just always happened to get choked up at the same time when I read that book. The refrain in that book that still gets me – "And the tree was happy." Damn – it's happening again.
To get updates on when my next post comes out, please click here!