Kudos to all of the school districts who now have no school during the week of Thanksgiving. If the worst travel day of the year is the day before Thanksgiving, then let's give people options. Once again – progressive schools are leading the way. Take the whole week, and let families leave when they want for the place where the feast will be served. As I've said before, the noble and non-consumerist goals of Thanksgiving are to reflect on our bounties, practice gratitude, and share time and delicious food with those we love. Why not have a week devoted just to that, while also making things a tiny bit better for those who have to travel on the Wednesday before the holiday.
To get into the holiday spirit, first comes the tree. I don't know why we are one of the few households to have a Thanksgiving Tree. Come on people! Join the cool kids and get the most out of your artificial tree! I do think that it's my favorite tree, but who am I kidding?! I love our Halloween Tree and Christmas Tree too!
We made our Thanksgiving trip to the grocery store fairly early on Saturday morning. We are shopping for just twelve this year – in years past, it has been double that number. Jill and I each took a cart and away we went. I love the Thanksgiving Day grocery run. I keep a permanent list on my Cozi app. The list just taunts me all year long, just waiting for me to use it. Opening that app and checking the list against what we already have means that Thanksgiving has officially started.
I've tried Trader Joe's, Costco, and Vons (Vons is Southern California-speak for Safeway). This year it's a Vons Thanksgiving. They had 95% of what we needed –not bad! The only thing I still need to shop for is turkey thighs. If I could, I would have a Thanksgiving feast where the only meat we serve is turkey thighs. Nothing else comes close. Drumsticks are fun (and by far my favorite food at Disneyland – almost single-handedly worth the is-it-really-this-expensive-and-is-it-worth-it entrance cost). But thigh meat is always juicy, and it's really hard to overcook – it's the king-daddy. I will find them. Oh yes. They will be mine.
For those of us who cook, we know that Thanksgiving is a two-day meal prep, between the roasted turkey and the smoked turkey, along with all of the other fixins (in the Matthews house, this includes roasted brussels sprouts, spicy cranberry sauce, cornbread dressing, cheese grits, and so many pies.) So, one of the huge questions is what else to cook that week on days that are not called Thanksgiving. I know that the night before Thanksgiving is a big pizza delivery night, but it's not the biggest. It's #3. Whaaaaat? Another urban myth destroyed. #1 -Halloween, #2 – Super Bowl Sunday. At any rate, there will be no pizza for us this week. I'll be making two meals in the days before Thanksgiving: Split Pea Soup with Irish Soda Bread then a Spinach Lasagna. Both are easy meals with excellent leftover potential.
Another big question is when to serve the Thanksgiving meal itself. I'm not here to argue against anyone – you do you when it comes to serving time. But here's why I love serving Thanksgiving at 2:00 PM:
Fewer decisions about lunch – just don't eat it. Eat a good breakfast and be hungry.
Just enough time for cooking and preparations.
There's lots of time for daylight after-meal activities – football watching, napping, walking around the neighborhood, cornhole, board games.
You don't have to wait for the next day to have leftovers. Ryan could makes his famous Thanksgiving Burrito that evening. Yep, he takes everything that was served and arranges it on the biggest tortilla that that they sell. For those not wanting something so . . . massive . . . have an extra piece of pie, or an open-faced turkey sandwich. Once it's been two hours since you uttered with difficulty, "I'll never eat again," you're fine to go back and get a second (or third) helping of your choice.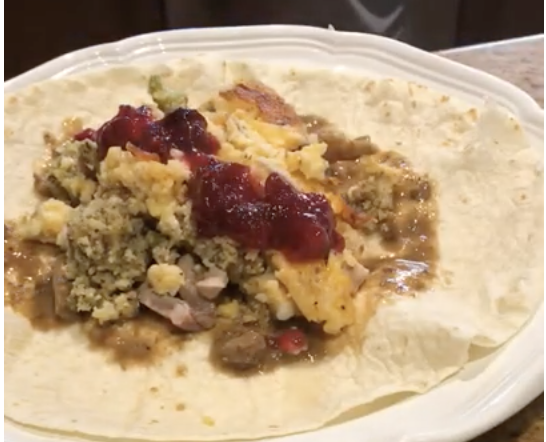 Here's an admission: serving the meal right at 2:00 is a challenge, so my promise is always that the meal will be served somewhere between 1:59 and 2:01. Things happen! I need a little flexibility!
And another admission: I was 30 minutes late last year. I know – shameful. But in my defense, I had challenges. The power had been out for two days. We kept the fridge running with our generator, but our double oven was out of commission. I had to cook the entire meal on our gas stove, our gas bbq, and the Big Green Egg smoker. In the end, it was an abject failure of timing, but the food was really good! Also – the power came back on five minutes after dinner was served. Once again, Murphy was an optimist.
This year, I'm thrilled to have Dawson home for Thanksgiving – he arrives on Wednesday. (Colorado School of Mines has not evolved when it comes to giving their students the week off.) Unfortunately, Ryan and his new bride Yesi will not be making it down. Even though I'm saving money by not having to buy the extra-large tortillas, I'm a little sad not to have both boys at home. The silver lining? When Ryan and Yesi do make it down, we will have a Friendsgiving celebration that will allow me repeat this all over again! Usually when our neighborhood does a Friendsgiving, it's on the Saturday of Thanksgiving weekend. Saturday is usually the day you are finishing up your leftovers, so even for a Thanksgiving nut like me, it is almost too much Thanksgiving. But December or January could be perfect. I'll be ready.
Finally, here are a few other ideas as you prepare for Thanksgiving:
My Thanksgiving schedule with links to my recipes.
Ina Garten's thoughts from this month's Bon Appetit magazine on making Thanksgiving a little easier. I'll read about anything Ina Garten advises – she is the champion of elegant simplicity. As King Louie, with excellent vocal support from Baloo, sang to Mowgli in The Jungle Book, "I want to be like you."
If you'd like to donate to those who need our help during this Thanksgiving holiday, I have two charities that I recommend highly.

Lot 318 is a homegrown charity in Placentia, CA that does a beautiful job of building safe and cohesive community and provides a big Thanksgiving dinner for two neighborhoods.
Happy Thanksgiving everyone!
To get updates on when my next post comes out, please click here